We are thrilled to announce the launch of brand new Jones Junction websites! These brand new, user-friendly, innovative websites were each designed with one thing in mind… you, the prospective car buyer!
So, what makes our websites different from other car dealership websites? Well, we are glad you asked! Our research tells us that car shoppers spends up to 10 hours researching their potential car purchases online, which includes the process of choosing which dealership they want to buy from. The realization that to the car buyer, knowledge is power, inspired us to build new websites with better tools for a stress-free vehicle shopping experience. Our new websites make it easier for you to 1) find your next car, 2) value your trade, 3) calculate your payment, and 4) get pre-approved… all before you ever step foot in the dealership. Our goal is to make it easier for you to find the information you want and need and when you have completed your research, we hope that you choose to buy your next vehicle from Jones.
Let's dig into those four important steps and we'll show you how our new websites simplify them for you:
Step 1: Find the Car of Your Dreams (or at least the car that best suits your needs and budget)
Searching for the perfect car has never been easier! All of our new websites offer you three different ways to start your vehicle search.
1. I Know What I Want – perfect for the car buyer who already has the vehicle they are looking for in mind. Simply select the year, make and model, and boom you can instantly see what's available.
2. I Know My Budget – sometimes we can't always afford the car of our dreams and that's okay. Instead of scrolling through hundreds of vehicles that may or may not fit your budget, start by narrowing the search to only cars within your ideal price range. This will make the shopping process easier and less stressful for you.
3. I Just Want to Browse – perfect for car buyer who is not sure what they are looking for or those who have a few models in mind. Jump right into our new inventory and filter by model there, or start with Certified Pre-owned vehicles and see how much you can save by buying used.

Once you decide which search method is right for you, jump right in and start exploring.
Another innovative and helpful feature of our new websites is the My Cars toolbar. This handy toolbar appears in the upper right hand corner once you have begun actively looking at inventory on any of the Jones website. It automatically stores the vehicles you have recently viewed and you can save these vehicles to refer back to in the future. The My Cars toolbar also allows you to set up alerts so you can be notified if the price of the vehicle changes at any point during your new car search.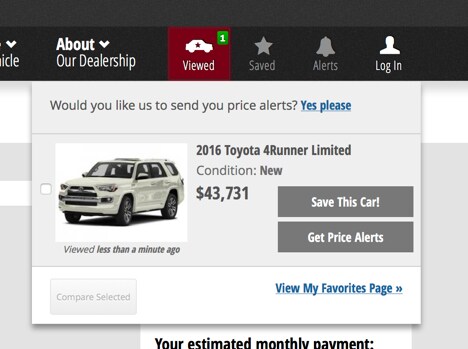 Step 2: Value Your Trade
Once you have your qualification numbers, it is essential to find out what your current vehicle is worth and what your new car payment will be once that value is applied as your down payment. Get an instant KellyBlue Book Cash Offer for your vehicle right from any of the Jones websites.
Step 3: Calculate Your Payment
From there, you can click over to our payment calculator, plug in your Kelly Blue Book Cash Offer as the down payment and any other information needed and get an instant estimate of what your monthly payment would be for your new car.
Step 4: Get Pre-Approved
Now that you have an idea of what your car is worth and what your monthly payment will be, its time to get pre-approval for your loan. All the Jones websites offer a quick and easy (one step) pre-approvalapplication that instantly lets you know what you qualify for. This is a very important step in the car buying process and our goal is to make it easy and painless for you.
Now that you are done researching your car and have all your ducks in a row, go ahead and give us a call schedule an appointment to check out that perfect vehicle in person. You can come in and meet the outstand Jones sales team and test drive the car you are looking at. While you are here, we will give you a free insurance quote to see if we can save you even more money (it never hurts to shop around).
And don't forget, with our fabulous new websites you can schedule your next service appointment online, too.
If you have questions during your research, please feel free to chat with us (a great feature of our new sites as well), text us or drop us a note and we will answer all your questions.
As we mentioned before, all of these easy to use and innovate car buying tools are available to you. We hope that you will take a look at our new websites and that you, too, find them easy to use and a great resource for your next car buying experience. Tell us what you think by sending an email to feedback@jonesjunction.com.