For several years Jones Junction has been involved as a sponsor of the Harford County Teacher of the year program (TOY). The TOY program is an opportunity for the County to highlight teachers that have been recognized in their community as outstanding educators. Our very own Jonesfor a Cause program is what lead us to initially participate in the TOY program and we could not be more honored to give back to the community in such a special way, especially when it comes to honoring those who teach and care for our children.
The 2016 Harford County Teacher of the Year awards dinner was held at the Bayou Restaurant in Harve de Grace on Wednesday, March 16th. Those in attendance included Board of Education of Harford County President Nancy Reynolds, Superintendent of Schools Barbara Canavan, Harford County Executive Barry Glassman, County Council President Richard Slutzky, members of the Maryland senate, delegation and the county council, as well as school administrators, educators, students, family and friends.
Mary Chance from Jones Junction was there to present Mrs. Sharalyn Heinly, a mathematics teacher at North Harford Middle School, with a brand new Nissan Rogue in honor of her being selected as the 2016 Harford County Teacher of the Year.
"Mrs. Heinly has been a teacher for over 22 years and has touched an amazing number of lives in our community. Her dedication to improving the lives of her students and the lives of students around the world are what make her our teacher of the year!"
—Superintendent Barbara Canavan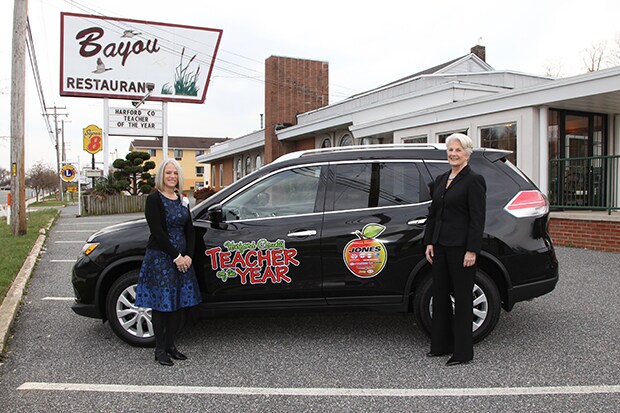 Jones' Mary Chance (right) with Harford County Teacher of the Year, Sharalyn Heinly (left) and her brand new 2016 Nissan Rogue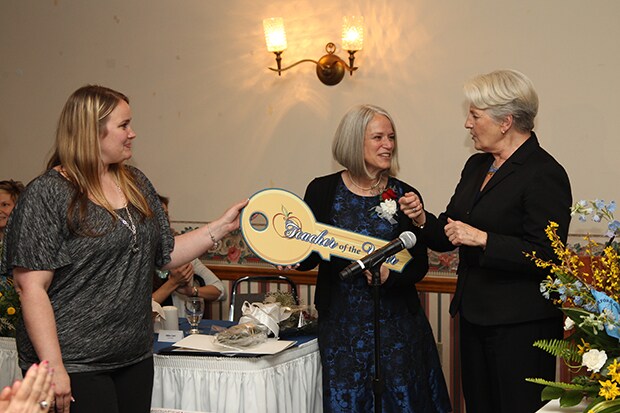 Jones' Mary Chance (right)) presenting the ceremonial key to Teacher of the Year winner Sharalyn Heinly (center) for her brand new 2016 Nissan Rogue.
Sharalyn was beyond excited to receive her new Nissan Rogue, turns out she's been driving an older car (think 1990's) with well over 150,000 miles on it.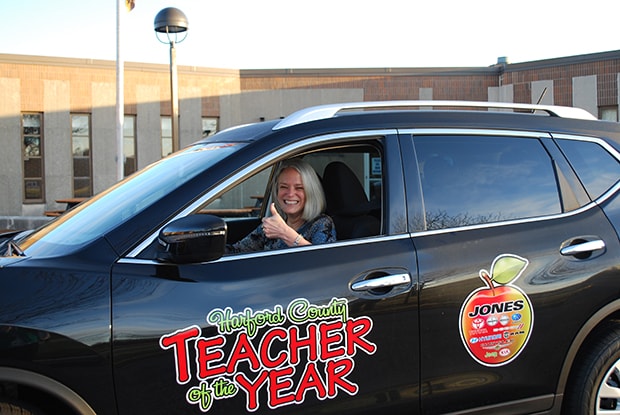 Participating in community events, giving back to those in need and honoring those who deserve it is what makes us passionate us here at Jones. The Jones family have been active members of the business community in Harford County for nearly 100 years (stay tuned, 2017 is a huge year for us) and we love every second of it. We want to thanks Mrs. Heinly and all the other amazing teachers of Harford County for taking great care of our children and helping to mold them into productive members of our community.
Congratulations Sharalyn! Enjoy you Nissan Rogue and welcome to the Jones Junction family
!