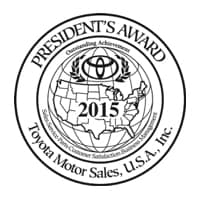 We are proud to announce that Jones Toyota has been awarded the highly prestigious President's Award for 2015. The President's Award is the highest honor a Toyota dealership can achieve and this is the 9th time Jones has won this award (1996, 1997, 2000, 2001, 2002, 2003, 2004, 2013, and 2015). Congratulations to the Jones Toyota Team!
Every year, Toyota Motor Sales, USA honors their outstanding dealerships with the prestigious President's Award, the highest honor that can be achieved by a Toyota Dealership. In order to qualify as a President's Award winner, Toyota dealerships must excel in a number of different categories, including Sales Satisfaction, Service Satisfaction, Market Share Attainment, Vehicle Delivery Excellence and Employee Training & Certification. Dealerships must meet or exceed the standard in all areas of dealership performance in order to qualify for this award. Dealerships that meet the requirements in all categories receive name badge recognition at all dealer events, national recognition, and more.
"It's an honor to have been awarded this prestigious award for the 9th time!" said Bryan Kilby, Jones Junction Owner &p; Principal, " and my hat is off to the entire Jones Toyota team."
We are beyond proud of the team at Jones Toyota for, once again, achieving this incredible honor. Toyota's, and our goal here at Jones, is to help ensure that every customer is satisfied, not only at the time of purchase, but throughout their time as a Toyota owner and Jones customer. Offering high quality vehicles to our customers is a great starting point, but that is only the beginning. We strive to match the quality products we sell with best in business customer service.
Jones Toyota is part of the Jones Junction family of dealership is Bel Air Maryland. We have been in the automotive business since 1917, almost 100 years! Our award winning dealerships include Bel Air Subaru, Bel Air Nissan, Jones Hyundai, Jones Chrysler, Dodge, Jeep and Ram, Jones Kia, and the Jones Preowned Super Center. Stop by one of our stores today to experience the Jones For A Lifetime.